Home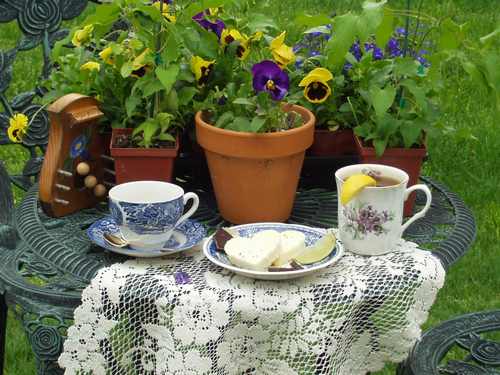 The Comfort Of Tea
On a gray or chilly day, is there anything in this world more comforting than a nice, steaming-hot cup of tea? Is there anything more welcoming than that first sip of tea, after a long day out in the world? Is there anything that speaks more of hospitality, kindness, gentility than that one special brew that warms us from within, both body and spirit?
Through many centuries, and in diverse cultures, tea has meant all of those things, and much more. In many cultures, it is an important part of treasured traditions and rituals. Countless literary works have portrayed characters welcoming one another with a cup of tea, comforting ailing or distressed friends or relations with a "cuppa," or throwing grand parties in which tea and savories were the star attractions. There's no doubt about it: For many, tea's unique warmth, both literal and symbolic, cannot be denied.
Adding greatly to the enjoyment of tea is, of course, the vast and beauteous array of china and accoutrements created just for this very special beverage. Delicate cups and saucers, teapots both elaborate and simple, intricate patterns, tea cozies, fine linens.... the list is endless. There are as many different ways of setting a tea table as there are tastes, and to the true tea lover, every one of them is special!
Here at Grace's Garden, we'd like to bring you some eye candy to go with your tea and scones, so periodically, on this page, we'll be showing different settings for tea. Some will be simple, some more involved, but all will be brought to you with a deep love of that one exotic, yet comfortingly common beverage that never fails to warm the heart. So take your favorite cup and saucer from the cupboard, and settle yourself down for a lovely cup of tea, here in the Garden!

Tea! thou soft, thou sober, sage, and venerable liquid...
--Colley Cibber (1671-1757): The Lady's Last Stake.